Attention All Perfect Interview Users

Perfect Interview is now using Adobe Flash Player to video record your interviews. This new version of Perfect Interview is easier to configure AND it works with both PCs and Macs.

If you have used Perfect Interview before, the new version works exactly the same as before, with one minor difference. When the recording starts, Flash will ask your permissions to use the camera and microphone on your computer: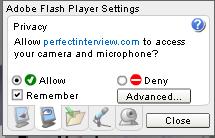 Be sure to check 'ALLOW'. Also, check the 'Remember' checkbox to
avoid having to repeat this step every time you start an interview.